| | |
| --- | --- |
| | The specific order and/or accurate dates presented in this article has never been confirmed by Universal Pictures, and therefore it can be inaccurate, incomplete, or partial. |
The following is a comprehensive timeline of events within the Dark Universe.
Rules
Unless confirmed otherwise, a movie is assumed to take place starting on its United States release date. For example, since The Mummy was released on June 9, 2017, it is assumed that the events of The Mummy began on that day.
Video games set in the universe will not be included here, as they contradict the universe continuity that has been established by the movies.
Dark Universe Timeline
3000's B.C.
2983 B.C.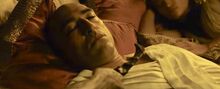 Assassination of Menehptre

A son is born to Menehptre. Ahmanet, now ineligible to claim the throne , murders Menehptre and her brother, using their blood as well as her own to summon Set, promising to find him a mortal man to inhabit so that they may rule the world as king and queen. Ahmanet attempts to sacrifice her lover to Set, but Menehptre's priests kill him before she can. Ahmanet is mummified alive and sealed in a tomb, and is assumed dead for 5000 years.[1]
1127
2017
June 9, 2017

Battle of Mosul
Retrieval of Ahmanet's sarcophagus

Morton and co. uncover Ahmanet's sarcophagus, planning to take the sarcophagus to London. However, Ahmanet summons a group of camel spiders, one of which bites Vail. After loading the sarcophagus on the plane, Vail becomes possessed by Ahmanet and kills Greenway, attempting to attack the crew before Morton is forced to shoot him dead. Ahmanet summons a wave of crows to attack the plane, which causes the plane to crash, killing the entire crew save for Jennifer Halsey, who was saved by Morton at the last minute.[1]

Reawakening of Ahmanet

Ahmanet is reawakened by absorbing the life energy of two emergency workers.[1]
2020
Full Media Chronology
References
Community content is available under
CC-BY-SA
unless otherwise noted.